The end of autumn is the prime time to start your composting journey.
During EvenGreener November, we're offering exclusive discounts on all composters, and not just on Black Friday. 
Whether it's a Subpod, a wooden composter, a kitchen composter or even wormeries, November is just the month to get started.
Nutrients is everywhere
As the leaves turn to crisp shades of amber and fall to the ground, there are endless opportunities to grab the nutrients your compost will need. Simply grab those crunchy leaves, whether they're in your garden or at the local park and instead of placing them in your wheelie bin, open up the lid of your composter and pop in the contents. 
Wooden composters act as natural insulators
If you're worried about the temperature of your composter, a wooden composter is the answer. Thermal temperatures are reached as the wood is a natural insulator and prevents heat its firm base prevents hot air from escaping. 
Wooden composters are also available in a great range of sizes and are perfect for turning even a commercial amount of waste into nutrients-rich compost at a hot temperature throughout the winter months. 
Thermo-Wood 600 Litre Compost Bin
Hot compost bins speed up composting, even in winter
Cold weather can slow down the process of composting if a hot temperature is not achieved. A hot compost bin ensures that compost is produced at a consistent rate at a high temperature. This doesn't change even if we're struck with snow and the garden freezes.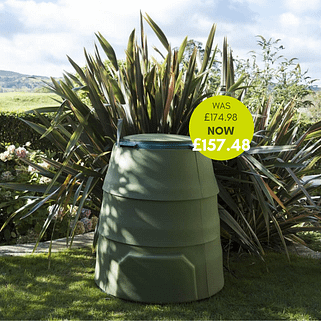 Green Johanna Hot Composter with a winter jacket
Get an extra 10% off composters all week as part of the EvenGreener November promotions
EvenGreener November is all about giving back to the planet, whilst allowing customers to shop at the best prices. In the run up to Black Friday, there are exclusive discounts available, making this the perfect time to order that composter you've been looking at all year. 
Wormeries are livelier in November than almost any other month
Worms can survive in any temperature, but they do prefer the warmth. So, during November as the temperature starts to drop towards the zero mark, your worms will be looking for the warmest place to wriggle to.
When filling up any wormeries, make sure to add plenty of food in and you'll find that the worms inside dart around from one side to the next so that they can find warm spots in the decaying matter. This will produce compost quicker than in warmer months.
Subpod composters aerate your garden, even when it's cold
Doubling up as a garden bench, the Subpod Grow is made from quality steel with an anti-corrosive aluminium and zinc coating, meaning that no matter how cold winter may get, your compost bin will not be affected. 
Subpod will also help to keep your entire garden healthy as autumn turns to winter. Worms flow freely in and out of the pod and as they do so, their movement will aerate your garden and adding natural nutrients on the way.
Subpod essential – below ground composter
Don't want to go out in the cold? You can compost indoors
Grabbing yourself a kitchen compost bin won't just speed up the process of composting; it'll keep you warm too. The Bokashi Bin is a fast-paced composter that lives in the kitchen and only needs emptying into the garden after a few weeks.  
If you order your composter during EvenGreener November, one tree will be planted  🌳
Give back to the planet by investing in a composter and by planting trees throughout EvenGreener November, including Black Friday. We'll plant one tree every time you make an order. 🌳
Use our printable fact sheet to take away and remind yourself of the benefits…